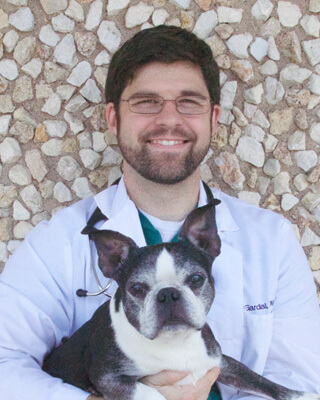 Dr. Gardial comes to us from Florida, where he went to vet school, but is originally from Arkansas. He grew up just outside of the resort town of Hot Springs, AR. As a kid, his family had dogs, cats, horses and cows, as well as the occasional guinea pig or other small pet. He graduated from the University of Arkansas with a B.S. in Microbiology (Cum Laude), and then married his wife, Reyda, before moving to Gainesville, FL. They both attended the University of Florida, where he graduated with honors from vet school and his wife earned a Ph.D. in Anthropology.
After vet school, Dr. Gardial worked for a great practice in Orlando, but they made the move to Austin both to be closer to home and because his wife has great opportunities in central Texas. After about 2 years at another great practice in northwest Austin, he made the move up to Georgetown.  He took over the practice from Dr. Breen in 2016.
In his off time, Dr. Gardial is an avid woodworker, very poor gardener, and enjoys the outdoors with his wife. They also enjoy playing in a couple of soccer leagues. They have two little terriers that keep them occupied at all times–Atlas and Juno.